Electricity
ELICIUS
ELECTRONIC ELECTRICITY METER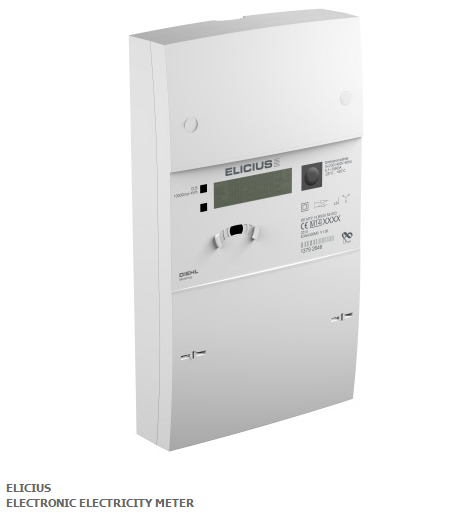 Application:
The smart electricity meter is applicable for residential and small commercial electricity consumers.
The meter is characterized by its simple and reliable technology, offers a double-spaced information display for the indication of consumption values and EDL information
and provides the established Diehl Metering communication technology.
The meter is able to communicate with the existing Diehl Metering system components,
and can be integrated into the smart metering infrastructure for walk-by / drive-by or fixed network operations.
A module compartment at the ELICIUS can be equipped with radio and wire-based communication modules.
Features:
Three-point mounting
Low intrinsic consumption
Active energy measurement for im- and export
Network parameter recording
System clock for due date generation
Tamper detection
EDL functions
IZAR+ radio performance
Mobile readout
Seamless integration in fixed network installation
BSI conform to TR 03109 for unidirectional communication
Conformity to Open Metering System specification