Water
HYDRUS
ULTRASONIC METER
Application:
Static ultrasonic water meter for accurate measuring and recording for
all applications of water supply.
Features:
Ultrasonic water meter with long-term stability
under difficult conditions (no measurement of air and insensitive against sedimentation).
Battery life up to 16 years.
Leak detection and fraud detection.
Sending data every 14 second.
Higher performance than class D requirements.
Metrological class 2 and dynamic range up to R 400
Compliant with MID, OIML R49 and EN 14154
Mounting in any installation position, no calming sections required.
Housing with thread connection lead-free brass.
IP68 suitable for outdoor installations.
Certified for drinking water (KTW and ACS).
Wired M-Bus, Radio OMS, Radio/L-Bus and Pulse interface available.
Radio communication based on Open Metering telegram
(OMS-Generation 3, Profile A, or OMS-Generation 4, Profile B, selectable).
Highest data security for AMR communication.
Displaying of error- and alarm codes, including leakage detection.
ALTAIR V4
ROTARY PISTON METER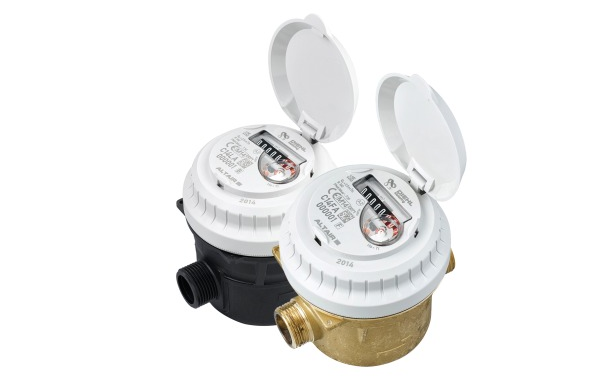 Application:
ALTAIR V4 represents the new generation of volumetric meters developed within
the framework of the MID (Measuring Instruments Directive) and field requirements.
The meter is very compact, thus adapting to the most restrictive environments (i.e. water boxes).
ALTAIR V4 is a robust meter that is compatible with the different qualities of water.
ALTAIR V4 is modular and may be fitted at any time with the IZAR RADIO,
the IZAR DOSING device, or the pulse emitter IZAR PULSE gateway to other systems.
Features:
Nominal diameter DN 15 und 20 mm
Starting flowrate at 0.5 l/h
Installation in all position
Compact
New counter with modularity "Ha + Ti"
Composite & brass version
Glass/metal register in option
MID approval up to R 800
High dynamic range (up to 1.000)
WESAN WS E
ELECTRONIC METER | WOLTMAN
Application:
Fully electronic bulk water meter for measuring
of fluctuating flows in the utility sector.
Features:
Electronic sensor control for recording flow rate
Lithium battery, lifetime up to 12 years
Optical ZVEI interface equipped as standard
Adjustable reading date for billing
Rotatable integrator
Single-line 7-digit display for easy meter reading
For horizontal installation
Outstanding long-term accuracy even under extreme loads
Extended measuring range better than metrological class